PERFUME
1/4 cup of Vodka or Everclear (pure grain alcohol)
An assortment of Essential oils and / or Extracts, Tinctures
Pure Spring or Distilled Water
5 drops of Glycerin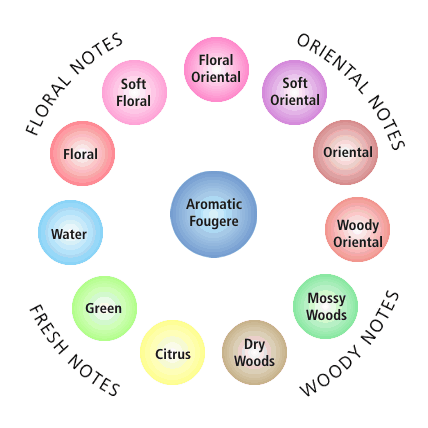 Notes:
Top notes
: lemon, orange, grapefruit, lime, bergamot, spearmint, peppermint, etc.
Middle notes
: coriander, palmarosa, marjoram, basil, rosemary, rose geranium, pettitgrain, lavender, etc.
Base notes
: patchouli, vetiver, frankincense, cedarwood, sandalwood, etc.
Start by adding base notes, then middle, then top notes.
Families:
Scents are divided into families such as floral, oriental, woody and fresh (citrus, etc.). Adding scents from neighboring families creates harmony.
http://www.basenotes.net/fragrancedirectory/
Obsession Fragrance Notes (for example):
Top Notes
Mandarin, Bergamot, Jasmine, Rose, Orange Blossoms.
Middle Notes
Coriander, Tagete, Armoise.
Base Notes
http://www.aromaweb.com/articles/emotionalwellbeing.asp
For Men:
Use scents from the woody or fresh families.
BASIC MIXING INSTRUCTIONS:
To 1/4 cup alcohol add approximately 25 drops of Fragrances, beginning with the Base notes. Add the Middle notes, then the Top notes last. Work slowly, keeping written records of how much of each fragrance is added to the mixture. When it smells good, cap and place it into cool, dark storage for a minimum of 2 days - 1 month to age and mellow. If you decide to add more scent after aging, you need to allow it to age again, until you are satisfied with the result. To finish, add 2 tablespoons pure water for perfume (more for a spray cologne) and 5 drops of Glycerin as a preservative. Always store your scents in cool, dark storage.
It is helpful and more convenient to mix and age scents in glass jars, then pour the finished products into bottles afterwards.
XXXXXXXXXXXXXXXXXXXXXXXXXXXXXXXXXXXXXX
It's good to know that Baking Soda is only slightly alkaline.
FACT:
Baking Soda is not soluble in ethyl alcohol; however, it does
absorb
alcohol.
http://www.instructables.com/id/Vegan-Lip-Balm/
Good, light skin moisturizer: pure Aloe gel.