He was a dashing, daring, handsome man, in my humble opinion (not biased, of course, lol).
http://www.aoc.gov/capitol-hill/national-statuary-hall-collection/john-sevier
http://en.wikipedia.org/wiki/John_Sevier
http://www.johnsevier.com/
http://www.tennessee.gov/tsla/history/govpapers/findingaids/gp2.pdf
http://www.tennessee.gov/tsla/history/govpapers/findingaids/gp3.pdf
http://en.wikipedia.org/wiki/State_of_Franklin
http://en.wikipedia.org/wiki/North_Carolina%27s_5th_congressional_district
http://en.wikipedia.org/wiki/Tennessee%27s_2nd_congressional_district
He represented the mountain folk, in Congress.
http://en.wikipedia.org/wiki/Category:Tennessee_Democratic-Republicans
http://en.wikipedia.org/wiki/Category:North_Carolina_militiamen_in_the_American_Revolution
http://en.wikipedia.org/wiki/Category:American_people_of_Huguenot_descent
http://en.wikipedia.org/wiki/Category:People_from_the_State_of_Franklin
http://en.wikipedia.org/wiki/Category:American_people_of_English_descent
http://en.wikipedia.org/wiki/Category:1815_deaths
Thomas Denman was among the "deaths" of 1815; possible relationship to some of Sevier's descendants (like, me) and a very interesting person.
http://en.wikipedia.org/wiki/Thomas_Denman_(physician
)
His interest in helping women through childbirth is very much like that of Huguenot doctors of the time.
http://en.wikipedia.org/wiki/Category:1745_births
http://en.wikipedia.org/wiki/Valentine_Sevier
John's father (grandfather was also named Valentine, Sr.).
http://tennesseeencyclopedia.net/entry.php?rec=1190
http://www.johnsevier.com/jstime.html
A timeline of his life.
http://www.newmarketvirginia.com/history.htm
Carl Driver, John Sevier: Pioneer of the Old Southwest (Chapel Hill, N.C.: University of North Carolina Press, 1932).
Samuel Cole Williams, Dawn of the Tennessee Valley and Tennessee History (Johnson City, Tenn.: Watauga Press, 1937), pp. 370-377
John Finger, Tennessee Frontiers: Three Regions in Transition (Bloomington, Ind.: Indiana University Press, 2001).
Samuel Cole Williams, Tennessee During the Revolutionary War (Nashville: Tennessee Historical Commission, 1944).
Stanley Folmsbee, Robert Corlew, and Enoch Mitchell, Tennessee: A Short History (Knoxville: University of Tennessee Press, 1969), p. 86.
Kevin Barksdale, The Lost State of Franklin: America's First Secession (Lexington: University Press of Kentucky, 2009).
Mary Rothrock (ed.), The French Broad-Holston Country: A History of Knox County, Tennessee (Knoxville, Tenn.: East Tennessee Historical Society, 1972), p. 487
Phillip Langsdon, Tennessee: A Political History (Franklin, Tenn.: Hillboro Press, 2000).
J.G.M. Ramsey, Annals of Tennessee, pp. 134, 712, e.g.
Mark Banker, Appalachians All: East Tennesseans and the Elusive History of an American Region (Knoxville, Tenn.: University of Tennessee Press, 2010), p. 61.
http://tennesseeencyclopedia.net/entry.php?rec=1236
http://books.google.com/books?id=iYYxAQAAMAAJ&printsec=frontcover&dq=oliver+perry+temple+sevier&source=bl&ots=sX4ppOBGNz&sig=A-qv1BxG00UnrqyrDpY6fFAKJmQ&hl=en&sa=X&ei=rxYQUMeiFYKS9QS7y4DwDw&ved=0CDIQ6AEwAA#v=onepage&q=oliver%20perry%20temple%20sevier&f=false
(c1893)
http://web.utk.edu/~grissino/downloads/Marble%20Springs%20Final%20Report.pdf
He lived in a log cabin / house.
http://www.knowsouthernhistory.net/Biographies/John_Sevier/
http://books.google.com/books?id=UWq0CtvLn_4C&pg=PA311&lpg=PA311&dq=%22lost+state+of+franklin%22+%22henry+conway%22&source=bl&ots=tmuqRORmhu&sig=m6xWrw4tilIJN8GHsw6bSN1tqYc&hl=en&sa=X&ei=ewUPULa0NImi8ASb54DACQ&ved=0CDMQ6AEwAA#v=onepage&q=%22lost%20state%20of%20franklin%22%20%22henry%20conway%22&f=false
http://books.google.com/books?id=asYTAAAAYAAJ&printsec=frontcover&dq=john+sevier&hl=en&sa=X&ei=D0Y-UbvINeXkygGr4YHICQ&ved=0CC0Q6AEwAA#v=onepage&q=john%20sevier&f=false
John Sevier, Commonwealth Builder.
http://www.rootsweb.ancestry.com/~lamadiso/articles/sevierfamily/sevierfamily.htm
A Louisiana branch of the family, I gather.
He was a magistrate (judge) of the Watauga Association.
Defended Fort Watauga against the Cherokee.
The old fort at Watauga has been reconstructed. Also known as Fort Caswell.
At the outbreak of the War, he was chosen as a member of the Committee of Safety for the Association's successor, the Washington District.
A remote area of frontier, West of the Appalachians.
The only Governor of the short-lived State of Franklin, which he created. Also known as the Free Republic of Franklin, or the State of Frankland.

Accused of the capital crime of treason by the Governor of North Carolina, he was arrested and imprisoned there, awaiting trial. However, his many friends and supporters quickly rallied to his rescue and successfully argued for his release. Although the case never really made it to court, artist Howard Pyle nevertheless presented this illustration of the scene, depicting John Sevier on the witness stand listening as one of his friends argued for the charges to be dropped.
He was Brigadier General (appointed by George Washington) of the Southwest Territory.
Born in Rockingham Co., Virginia, then part of Augusta Co., near the town of New Market (which he founded himself before going to Tennessee).
"He was the oldest of seven children of Valentine "The Immigrant" Sevier and Joanna Goad. His father was descended from French Huguenots, and had migrated to Baltimore in 1740 and gradually made his way to the Shenandoah Valley.
He and Sarah moved from Virginia to the Carter Valley settlements near the Holston River of Tennessee.
They later moved to Elizabethton, in Carter County.
The Watuaga Association is in reference to the nearby Watauga River. The lands were leased from the Cherokee.
The British king made it illegal for Colonists to live on Indian lands, such as that leased from the Cherokee tribe. So, in 1775 John Sevier witnessed the legal purchase of those lands from the Indians.
Meanwhile, the British crown refused to recognize the transaction, insisting that they leave anyway. Also around the same time, Dragging Canoe, a Cherokee chief who disagreed with the sale of their land, began making threats against the settlers.
Site of Fort Lee.
Commonly referred to as a "beloved woman" of the Cherokee, she nevertheless was a sort of double-agent, I guess. She warned the settlers of an impending attack by Dragging Canoe and another Cherokee war chief, Old Abraham.
"In February 1788, the rivalry between Sevier and [Colonel John] Tipton came to a head in what became known as the "Battle of Franklin." While Sevier was away campaigning against the Cherokee, Tipton ordered some of his property seized for taxes supposedly owed to North Carolina. In response, Sevier led 150 militia to
Tipton's farm
, which was defended by about 45 loyalists. Both sides demanded the other surrender, and briefly exchanged gunfire. On February 29, two days after the siege began, loyalist reinforcements from Sullivan County arrived on the scene and scattered the Franklinites. Sevier retreated, though not before several were killed on both sides. Two of Sevier's sons were captured, but subsequently released." (Wikipedia)
"Following the Battle of Franklin, support for Sevier and the State of Franklin collapsed in areas north of the French Broad River, and Governor
Samuel Johnston
issued a warrant for his arrest in July 1788. In October, after he attacked Jonesborough store owner David Deaderick for refusing to sell him liquor, the Tiptonites managed to apprehend Sevier. He was sent to
Morganton, North Carolina
, to stand trial for treason, but was released by the
Burke County
sheriff, William Morrison (a Kings Mountain veteran), before the trial began." (Wikipedia)
And during all of his battles with both Britain and North Carolina, Sevier also continued fighting the Indians. Wow, that must have been a stressful time. No doubt a shot of whiskey now and then, was good medicine.
"In February 1789, Sevier took the Oath of Allegiance to North Carolina. He was elected to the North Carolina state senate, and was pardoned by North Carolina Governor
Alexander Martin
. When the senate convened in November 1789, Sevier worked in support of the state's ratification of the U.S. Constitution. After it was ratified on November 23, Sevier helped engineer a second cession act, which passed with little opposition in December, essentially handing over what is now the state of Tennessee to the federal government.
"To administer the new cession, Congress created the Southwest Territory in the Spring of 1790, which would be administered under the
Northwest Ordinance
. Sevier was appointed brigadier general of the territorial militia, and fellow land speculator and North Carolina politician,
William Blount
, was appointed governor.
In June 1791, Blount negotiated the Treaty of Holston, which resolved the land disputes with the Cherokee created by the Treaty of Dumplin Creek.
http://www.scout.me/treaty-of-dumplin-creek--near--kodak-tn/e-4809007
"In the Fall of 1793, following the Cherokee attack on Cavet's Station west of
Knoxville
, Sevier led the territorial militia south into Georgia, where he defeated a Cherokee force at the
Battle of Hightower
and destroyed several villages. The following year, he was appointed by President Washington to the territorial council, a body which had a function similar to that of a state senate. That same year, he was appointed to the first Board of Trustees of Blount College, the forerunner of the
University of Tennessee
." (Wikipedia)
"GOVERNOR OF TENNESSEE:
"In 1796, the Southwest Territory was admitted to the Union as the State of Tennessee. Sevier missed the state's constitutional convention while serving on the territorial council in Washington, but was nevertheless elected the new state's first governor. Sevier made the acquisition of Indian lands a priority, and consistently urged Congress and the Secretary of War to negotiate new treaties to that end.
"During his first term as governor, Sevier developed a rivalry with rising attorney
Andrew Jackson
. In 1796, Jackson campaigned for the position of major-general of the state militia, but was thwarted when Sevier threw his support behind George Conway.
Jackson also learned that Sevier had referred to him as a "poor pitiful
petty fogging
lawyer" in private correspondence. In 1797, Jackson became aware of massive fraud that had taken place at North Carolina's Nashville land office in the 1780s, and notified the governor of North Carolina. When the governor demanded the office's documents, Sevier blocked their transfer, leading Jackson to conclude that Sevier was somehow involved in the scandal.
"After Sevier's third (two-year) term as governor, term limits prevented him from seeking a fourth consecutive term, and
Archibald Roane
was elected as his replacement. Both Sevier and Jackson campaigned for major-general of the militia, and when the vote ended in a tie, Roane chose Jackson.
When Sevier announced his candidacy for governor in 1803, Roane and Jackson made documents from the Nashville land office scandal public, and accused Sevier of bribery.
Their efforts to smear Sevier were unsucessful
, however, and Sevier easily defeated Roane in the election.
"Following his inauguration, Sevier encountered Jackson in Knoxville, and an argument ensued in which Sevier accused Jackson of adultery for his marriage to
Rachel Donelson
. An enraged Jackson challenged Sevier to a duel, which Sevier accepted. The duel was to take place at
Southwest Point
, but Sevier's wagon stalled at
Campbell's Station
en route to the duel. As Jackson returned to Knoxville, he encounted Sevier's entourage. The two loudly exchanged insults, and Sevier's horse ran away, carrying his pistols. Jackson pointed his revolver at Sevier, who hid behind a tree. Sevier's son pointed his revolver at Jackson, and Jackson's second pointed his revolver at Sevier's son. Members of both parties managed to resolve the incident before bloodshed took place.
[Lol, that would make a good movie scene.]
"In 1804, Sevier helped
William C. C. Claiborne
get appointed governor of the newly-acquired
Louisiana Territory
, a position Jackson had sought. Jackson again supported Roane in the state's gubernatorial election in 1805, but Sevier won with nearly two-thirds of the vote. Sevier's last campaign for governor was in 1807, when he defeated William Cocke." (Wikipedia)
"LATER LIFE:
"Term limits again preventing him from a fourth consecutive term, Sevier sought one of the state's U.S. Senate seats in 1809, but the legislature chose
Joseph Anderson
. He then ran for the
Knox County
state senate seat, winning easily. In 1811, Sevier was elected to the U.S. Congress for the state's
2nd district
. Sevier was a staunch supporter of the
War of 1812
, and President
James Madison
offered him a command in the army, but Sevier turned it down.
"In 1815, Sevier died in the
Alabama Territory
while conducting a survey of lands Jackson had recently acquired from the
Creek tribe
, and was buried along the
Tallapoosa River
near Fort Decatur.
In 1889, at the request of Governor
Robert Love Taylor
, his remains were re-interred on the
Knox County Courthouse
lawn in Knoxville. A monument was placed on the grave in 1893, in a ceremony that included a speech by historian
Oliver Perry Temple
. In 1922, the remains of his second wife, Catherine Sherill, were re-interred next to Sevier's. A monument recognizing his first wife, Sarah Hawkins, was placed at the site in 1946."
Immediately following the birth of her tenth baby, my sixth great-grandmother, Sarah Hawkins Sevier, died shortly after or during the family's sudden flight from attacking Indians. They were forced to flee by wagon and horseback from their log house to the Fort nearby, which Sevier had built for the community's safety. In order to prevent the Indians from desecrating her grave, he hastily laid her to rest in an unmarked place in the woods somewhere; and because of all the associated stresses, he was never able to relocate her body later. So, to this day her grave is lost and her body is unmarked.
"LEGACY:
"In his 2009 book,
The Lost State of Franklin
, Kevin Barksdale points out that while Sevier was driven, at least in part, by a desire to solidify his own land claims in the trans-Appalachian region, he nevertheless represents for many East Tennesseans, "rugged individualism, regional exceptionalism, and civic dignity." For nearly a century after his death, historians such as J.G.M. Ramsey and Oliver Perry Temple heaped unconditional praise upon Sevier, and romanticized various events in his life. These events were clarified by later authors such as
Theodore Roosevelt
(
How the West Was Won
) and
Samuel Cole Williams
(
History of the Lost State of Franklin
).
"Several historians argue that the rivalry between John Sevier and Andrew Jackson was the root of the factionalism that divided East Tennessee and the rest of the state in subsequent decades. Pro-Sevier sentiment in East Tennessee gradually evolved into support for the
Whig Party
in the 1830s, and support for the
Union
during the Civil War. Following the war, East Tennessee remained one of the South's few predominantly Republican regions into the 20th century."
Interesting, that pro-Sevier sentiment "evolved into support for the
Union
during the Civil War", in light of the fact that at least one of his gg-grandsons, William C. Denman (and I believe William's brother, Blake Jr.), fought for the South (Alabama regiment; their parents having lived and died in Alabama.
Then the Wikipedia article lists numerous monuments, etc., devoted to his memory.
http://posterityproject.blogspot.com/2011/07/john-sevier-warts-and-all.html
Posted July 13, 2011
http://posterityproject.blogspot.com/search/label/Sevier%20Memory
This blogger, Gordon Belt, has made numerous posts about my sixth great-grandfather. He claims to have an objective view of the historical facts. Hmm.
http://posterityproject.blogspot.com/2011/09/john-sevier-is-most-interesting-man-in.html
It's incomprehensible that this author got a fancy award for this. I wouldn't be surprised if Belt is a descendant of Andrew Jackson, or just another "gentile"-bashing "Jew". It's quite peculiar that this person who claims Tennessee as his home state, apparently hates the state's first Governor with such irrational passion. All he really does here, is endlessly harp on Sevier with nothing substantial to support his criticisms. He has seen fit to write roughly twenty blogs on the same subject: that in his opinion historical records (at least those surrounding the facts of John Sevier's life and career) are incredible, and for that reason John Sevier doesn't
deserve
the admiration he has long held both during his own lifetime and long since his death. Even Belt himself expresses surprise on winning the John Thweatt award... and for good reason.
I'm astonished that the State pays this person and his "ordained minister" wife, to do nothing much more than talk trash.
http://sevier.historystreasure.com/
http://genforum.genealogy.com/sevier/messages/799.html
Found some interesting historical details about Elizabeth Hawkins Sevier, William H. Clark, and Elizabeth Clark. It says Elizabeth Clark and husband John Elston (my gggg-grandparents) lived at Owl Swamp in Northern Georgia for some time, before moving to the Creek Nation, where they remained until their deaths. They're supposed to be buried on the old homestead of one of their sons, Allen Elston (or Alston, sps). We're descended from their daughter, Neaty Elston. It says also that John Elston was the son of David Elston -- of Elizabeth, NJ.
http://archiver.rootsweb.ancestry.com/th/read/CLARKE/2002-03/1015988254
http://www.rootsweb.ancestry.com/~tncjones/goodspeed1.htm
http://posterityproject.blogspot.com/2012/05/dna-study-sheds-new-light-on-my.html
Gordon Belt is descended from Melungeons, lol. His yDNA is from sub-Saharan Africa, go figure.
http://en.wikipedia.org/wiki/Confederate_States_of_America
That's strange; Wikipedia stated that Tennessee was a Union state, lol... unless I read it wrong.
He's been compared to George Washington in looks, but I like Sevier's eyes much better. They were described as having been "bright blue" or "dark blue" (depending on the source) in color.
Gordon Belt and his friends at the Tennessee Libraries and Archives have opened a new blog.
An apparent goldmine of pedigree information. However, the link isn't working properly; I googled "john sevier chapter dar" and found it that way. There's an abundance of family tree background there, which I'm now transferring to my own chart. This enabled me to fill in a lot of Sarah Hawkins Sevier's background. She was John's first wife, and my sixth great-grandmother.
Copy of a letter written by John Sevier concerning the murders of two Cherokees.
John Sevier's paternal lineage is Basque (de Xavier).
Don Juan de Xavier ~ Marie Maris
So there is our lineage tracing back to first Governor of Tennessee, John Sevier, and even further back to St. Francis de Xavier and the Basques of Navarre, Spain. Castle Navarre belonged to our family at one time (Francis inherited it and then donated it to the Jesuits, in whose possession it remains to this very day). The village of Xavier, Navarre, France, was named after our family too.
Of course, John Sevier and William H. Clark were both magistrates and veterans of the American Revolution. Sevier also fought in the Indian Wars. Blake Denman was the son of an American Revolution veteran, and the father of a Civil War veteran (my gg-grandfather, William C. Denman, who was enlisted with two different Alabama companies). I believe Isaiah Denman was somehow involved in WWI (perhaps on standby? not sure). Vernon Denman died in 1943 under extremely spurious circumstances. It smells of a cover-up and fraud on the part of the Florida State government, at least. My father, Leon Denman, was a Korean War veteran of nearly ten years active duty in the Air Force (Itasuki AFB, Japan; and Eglin AFB, Florida, among other stations). Like my grandfather he also died too young, a victim of medical neglect and malpractice.
http://www.olrl.org/lives/xavier.shtml
http://www.biography.com/people/saint-francis-xavier-39911
http://www.nndb.com/people/275/000103963/
http://www.xavier.edu/mission-identity/heritage-tradition/Who-is-Francis-Xavier.cfm
http://posterityproject.blogspot.com/2011/07/john-sevier-warts-and-all.html
But, that pretty much lays to rest my question regarding why John Sevier is not mentioned among "Famous Freemasons" of Tennessee. He probably never was a Freemason, OR there's a slight chance that he was but later fell out of favor with that particular fraternity. Hmm. My ancestor was a very unusual man. Most men of his caliber readily joined those types of organizations then, as now. Most men enjoy the power and ego trips of belonging to such groups. I'm actually quite relieved to know that he was not a Freemason, at least not one in good standing with the club.
http://posterityproject.blogspot.com/2010/09/patriots-or-traitors-generational.html
http://www.metropulse.com/news/2010/sep/22/john-sevier-william-blount-and-their-unmentionable/
Andrew Jackson, the "Famous Freemason", slandered him; and his 'friends' are still at it.
http://pastinthepresent.wordpress.com/2010/09/27/early-tennessee-leaders-behaving-badly/
Another one riding on Neely's coat-tails; seems Belt rides on theirs (he refers to them often enough).
http://reevesmaps.com/Knox_olden/knoxville.htm
c1885; I actually prefer reading the thoughts and opinions of people who lived closer to the timeframes involved in the study of History.
"The Cherokee are Coming!", LOL, I'll never get over the sheer
irony
of it all.
"It was a patriarchal "reign," such as never before or since has been known in this country. Sevier's will was law; but it was law regulated by love, which every man, woman, and child recognized and accepted. For years there was no State prison, and the jail at Knoxville--sixteen feet square--never at one time had more than ten inmates. There were courts and judges and juries; but Sevier was the court of last resort, the supreme judge, the grand jury. Was any one aggrieved, he complained to the Governor; did two men differ, they submitted their controversy to his decision; were some of his old comrades in poverty or distress, they appealed to their old commander, and he always found some way--with only a meagre pittance of a thousand dollars a year--to give them relief and assistance. And so he lived, blessed by a love that was universal. In this age of greed among public men it is well to contemplate such a character."
The youth, Andrew Jackson, at the Waxman Massacre. Maybe that's when he developed a taste for blood; or maybe he was born that way.
My ancestor stretches my own vocabulary, lol:
SQUALLY:
characterized by short periods of noisy commotion
PERFIDIOUS:
Deceitful and untrustworthy
http://our-royal-titled-noble-and-commoner-ancestors.com/surname_index.htm
No doubt, related to at least a few of these; at least distantly.
OK, was he or wasn't he? YES, he was, lol... a Freemason, that is. Finally, it comes to full light:
Debra,
Regarding part one of your two-part question, I conducted a cursory search of the book, "The History of Freemasonry in Tennessee, 1789-1943" by Charles Albert Snodgrass. In the index there are several mentions of John Sevier, including one on page 46 which reveals the following:
"(Polk) Tennessee Lodge No. 2 (N.C. 41) Knoxville was chartered at Knoxville by the Grand Lodge of North Carolina November 30, 1800, naming as its first Master one of the most distinguished characters in Tennessee history--His Excellency General John Sevier, Governor of Tennessee..."
There is also a Masonic biography of John Sevier on page 415 of this book.
As I said in an earlier comment, I think this little-known aspect of John Sevier's life deserves further inquiry. Hopefully there will be enough information to write a blog post about it, but in the meantime I wanted you to have this information.
You can find this book at the Tennessee State Library and Archives. Although you cannot check out books from the collection, you can view them in the South Reading Room. I'd encourage you to
visit the TSLA website
to learn more about the collection. You can also check out the
Visitors Guide
for hours, location, and parking should you choose to visit TSLA in person.
Thank you Gordon; I doubt I could have uncovered that info by myself. I was beginning to believe he never was a Mason at all, lol. Seems a little strange to me, that he isn't mentioned on their main website along with other "Famous Freemasons".
Going off your lead, I found the following online source:
http://books.google.com/books?id=d08uAAAAYAAJ&pg=PA25&lpg=PA25&dq=polk+tennessee+lodge+number+2&source=bl&ots=MVRSxWxJM5&sig=MWcpVMV65wtElpznUik5uXfbyME&hl=en&sa=X&ei=dMoOUZeoGIPJyAG7p4GYDQ&ved=0CEcQ6AEwBA#v=onepage&q=polk%20tennessee%20lodge%20number%202&f=false
[Page 25.]
"The Beginnings of Freemasonry in North Carolina and Tennessee" by Marshall De Lancey Haywood, c1906
"Tennessee Lodge, No. 41 of North Carolina, No. 2 of Tennessee, chartered November 30, 1800 by Grand Master William Polk. This was called Polk Lodge while it was working under dispensation. Possibly the latter title was not retained because the Grand Master felt a delicacy in creating by charter a Lodge named for himself. The charter officers of this Lodge were: Governor John Sevier, Worshipful Master; James Grant, Senior Warden, and George Washington Campbell, Junior Warden."
(Still looking forward to learning his thoughts regarding the Constitution, and wishing you success in finding something along those lines.)
Thanks always, Debra
http://archive.org/details/shortmethodstrea00snod
While researching author Charles Albert Snodgrass, I found this excellent book on tailoring men's clothing by him!
http://ncmason.net/glnc/nclor/ltc/C3.pdf
North Carolina Masonry and the American Revolution.
http://www.lib.unc.edu/mss/inv/f/Freemasons.Grand_Lodge_of_North_Carolina.html
"To assist in the prosecution of the accused, the General Assembly passed a court law in December 1799 that created a special tribunal to try the men. In June 1800, five of the twenty-one men originally accused of fraud came to trial. Of those tried, only three, James Glasgow, Willoughby Williams, and John Bonds. Having accomplished the goal for which it was created, the court continued in existence for the remainder of its original two year commission."
John Sevier was then made Worshipful Master of the Lodge in Knoxville (originally a NC, then later becoming a TN entity) in November, 1800. Andrew Jackson, who had only recently started the whole Land Frauds scandal with evidence he allegedly uncovered, attended the first meeting of that Lodge, in March, 1800. It seems that Lodge's first meeting preceded its charter, by a few months. So, it's hard to say whether or not John Sevier was actually in attendance at the first meeting, along with Andrew Jackson; although I would expect he, as a Freemason, would have been there with the rest of the club.
"...public prosperity..." I think this is the reason John Sevier is not revered by Freemasons as is Andrew Jackson; like George Washington and other US Presidents, he was not fabulously wealthy. In fact, Sevier died penniless -- he's used all of his money to finance his country and its citizenry. Instead of living in mansions, as US Presidents usually do, John Sevier lived in a simple, modest log house.
Andrew Jackson's mansion (large enough for plenty of servants, and I'm sure Jackson had slaves).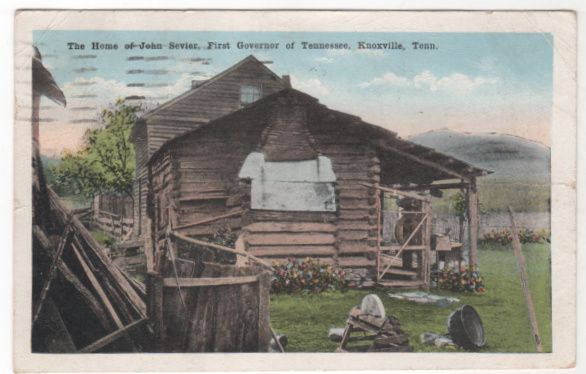 An old photographic postcard of Governor John Sevier's log house, his home in Tennessee, prior to its rehabilitation.


Post-preservation.
Around 1864, a grandson(?) of Sevier, Thomas Sevier, was made a Master Mason at this Lodge.
So far, I've yet to find any source (other than the word of Gordon Belt) which would suggest that John Sevier was in any way culpable with regard to the Land Frauds case(s).
I wonder if at any time anyone ever forged Sevier's name on any of those grants? I suspect that would be quite probable.
http://www.ncmuseumofhistory.org/collateral/articles/s05.county.name.changes.pdf
http://www.tn4me.org/article.cfm/a_id/268/minor_id/83/major_id/26/era_id/3
Goes into some more detail about Tennessee and US politics, Land Speculation, and political rivalry between Jackson and Sevier. Governor Blount is noted to have continued the business of land speculation while in office (something of which I do not approve: Moonlighting Politicians). Sevier is noted to have continued to
ally
himself with land speculators, but not to have engaged in the business himself while in office. This article makes absolutely no mention at all, as to whether or not Andrew Jackson was himself a land speculator (he was, in fact).
Also, this article points out the rivalry between Andrew Jackson and John Sevier over the appointment to office of General of the Tennessee Militia, something which Jackson dearly coveted but that Sevier (rightly) deemed him too inexperienced to handle. Losing that political battle made Jackson extremely soreheaded, cranky and vengeful. I'm sure he was quite nasty-tempered whenever he encountered Sevier (Jackson was notorious for being a truly mean and violent personality); and Sevier defended his own honor and pride as any normal man should: he didn't put up with Jackson's verbal abuse, giving Jackson a taste of his own medicine. As clever witted as Sevier was, that must have riled Jackson up even more.
http://archiver.rootsweb.ancestry.com/th/read/Melungeon/2004-03/1078310468
Gordon Belt has recently admitted that he has Melungeon ancestry, and here is another attack by a Melungeon on John Sevier's character, dated 2004. It would seem the Melungeons don't like John Sevier, despite the fact that some of them have also claimed to be descended from a "mistress" of Sevier (there's no way they could have been legitimate progeny, anyway).
I've also heard a rumor that John Sevier had a Cherokee mistress, too; but who knows? It does seem very apparent to me, that John Sevier was far more compassionate toward the Indians whom he was forced to fight than was Andrew Jackson. Jackson's abuses are well documented for the record, as are Sevier's gestures of goodwill (including many kind or at least fairminded statements on their behalf). As Governor and military leader, Sevier often made orders which spared Indian lives, especially those of the elderly, women and children.
http://archiver.rootsweb.ancestry.com/th/read/Melungeon/2004-03/1078360828
A Sevier descendant nobly (and with characteristic grace) answers the charges against my sixth great-grandfather.
http://www.geni.com/people/John-Nolichucky-Jack-Sevier-1st-Gov-of-Tennessee/6000000004018012446
Article on Geni, which gives Sevier's middle name as "Paul". Also references the DAR here.
http://wiki.answers.com/Q/How_many_great_great_great_great_grandparents_does_a_regular_person_have_by_blood
So, I have 256 sixth great-grandparents (128 male and 128 female), and John Sevier is just one of them. Would love to know who all the rest were, lol.
Eight great-great grandparents; four female and four male. Cely Bird was one of them. I have to look up the rest, but I'm pretty sure a few of them are unknown to me.
One of John Seviers contemporaries, I think? Anyway, I just included this painting of Davy Crockett, because I love how it looks!
http://posterityproject.blogspot.com/2013/02/john-sevier-and-slavery-on-frontier.html
Gordon Belt's latest smear of John Sevier. I wonder how many slaves he had, compared to how many Andrew Jackson had? And I wonder how he treated his "people", compared to how slaves were treated by Jackson? Jackson was a mean-spirited, cranky sob; while Sevier was noted for his kindness toward all -- even toward his enemies, even toward Jackson. John Sevier, descended from Basque nobility and European artistocracy, was a gentleman in the truest sense of the word.
On the bright side, Belt answered my question: I'd wondered if Sevier had any servants or field hands at all. I suspect he had very few though, in light of the facts that the Seviers had eighteen children of all ages and only thirty-five acres of land.
On the other hand, Jackson, born in one of the worst states for slavery, South Carolina, had the Hermitage with his wife (no children of their own, although they adopted several), an estate of over 1,000 acres. It came with just nine slaves when he first purchased the Hermitage; but by the time of his death he had around 150 slaves, with separate slave quarters.
Wikipedia: "Jackson had three adopted sons: Theodore, an Indian about whom little is known, Andrew Jackson Jr., the son of Rachel's brother Severn Donelson, and Lyncoya, a Creek Indian orphan adopted by Jackson after the Creek War. Lyncoya died of tuberculosis in 1828, at the age of sixteen.
Daniel Smith Donelson
and
Andrew Jackson Donelson
were the sons of Rachel's brother Samuel Donelson, who died in 1804. Andrew Jackson Hutchings was Rachel's orphaned grand nephew. Caroline Butler, Eliza Butler, Edward Butler, and Anthony Butler were the orphaned children of Edward Butler, a family friend. They came to live with the Jacksons after the death of their father.
http://www.cr.nps.gov/nr/travel/presidents/jackson_hermitage.html
http://www.blackpast.org/?q=aah/sheppard-ella-1851-1915
A biracial slave born on Andrew Jackson's plantation, a "relative of the Jackson family".
http://www.thehermitage.com/mansion-grounds/farm/slavery
"Slavery was the source of Andrew Jackson's wealth."
I don't believe the same could be said for John Sevier.
And still no word on John Sevier's involvement with the 1787 Constitutional Congress.
http://www.phoenixmasonry.org/10,000_famous_freemasons/Volume_4_Q_to_Z.htm
"Finally the territory was ceded by N. Car., and Sevier then took an oath of allegiance to the U.S., was commissioned brigadier general in 1789, and the following year chosen to Congress as the first representative from the valley of the Mississippi."
He's not listed on masonicinfo.com.
http://cradleofliberty.blogspot.com/
Jenny (and the Reverend) have excellent insight, intelligence, reason.
Thankfully, I'm not the only intelligent person who recognizes Gordon Belt is a Governmentally backed "revisionist".
Life of General John Sevier, by Francis M. Turner, c1910
John Sevier as a Commonwealth Builder, James R. Gilmore, c1887
John Sevier, Citizen, Soldier, Legislator, Governor... by Oliver Perry Temple, c1910
Borrowable, but not available online, such a shame.
The Shields' family, of Tennessee.
Andrew Jackson and Early Tennessee History, Volume I
Andrew Jackson and Early Tennessee History, Volume II
Andrew Jackson and Early Tennessee History, Volume II, second edition
Andrew Jackson and Early Tennessee History, Volume III
Andrew Jackson and Early Tennessee History, Volume III
Red Belts, by Hugh Poindexter, c1919
"Why also, should we all be taught to revere the memory of Miles Standish, and pay but scant attention to that of John Sevier?"
I'm afraid I would never join such organizations, even if they would have me.
maria de azpilicueta (various spellings) xavier (royal blood, mother of St. Francis Xavier, etc.). Husband was Don Juan de Jasse (various spellings).
Simplified Family Tree... they have some connections to the Habsburgs, I see.
Count de Provence (Louis XIII) was Louis Stanislas Xavier (oops, I said "Valentine").
We seem to be connected to the Ezpeletas, Peraltas, and Jassos. These names have various spellings, of course. And they are also known as the Xaviers, for the Castle which they owned in Navarre. Really, I wish I could afford to have someone trustworthy to figure this all out for me; it's very difficult and confusing, especially since I'm not familiar with the languages (French, Spanish, and Basque -- especially the latter). The Jasso family wasn't nobility, but were likely aristocracy. I'm more certain of the Ezpeleta connection, than of the Peralta one; however, it wouldn't surprise me.
And through the Sevier branch, Navarre and the Bourbons, I suppose.
This has letters to and from John Sevier and George Washington, Thomas Jefferson.
Neaty and Blake are shown on this pedigree. My gg-grandfather, William C. Denman, was their son.
She was born in 1807 and would have been John Sevier's g-granddaughter (he was a teenager at his first marriage, and Neaty is descended from his oldest daughter, the fourth of his eighteen children). She is buried by her spouse, Blake Denman, my ggg-grandfather. The Elstons and my branch of the Denman family both moved to Georgia from New Jersey, and probably knew of each other in Jersey, too.
Neaty's mother must have been Elizabeth Sevier Clark [Mrs. John] Elston. Her grandmother was John Sevier's daughter, Elizabeth Hawkins Sevier [wife of Major William H.] Clark. She is our connection between the Denman and Sevier families.
This again shows Neaty as the daughter of Elizabeth Clark; and her father as John Elston of South Carolina.
This indicates that John Elston's parents were from New Jersey. Blake Denman was born I believe in Georgia or Alabama. The families in those days were very large, and they obtained land all over the South where the climate was conducive to growing crops.
Wow!! I was wondering how "Neaty" got such an unusual name... it derives from her grandmother's name: Fernita!! :) Fernita and David are buried on private property in Kentucky, apparently. This says that David's parents were William Elston and Sarah Spencer. David served in the NJ militia during the Revolution. "He was a Blacksmith. He was a Bondsman of Isaiah line..." I'm not sure what that last part is supposed to mean.
William Elston's parents were presumably William Elston, Sr., and Elizabeth Cole.
William Elston, Sr., was the son of John Elston and Joan Clapp.
The Elston family seems to trace back to at least 1608, New Jersey (Woodbridge, Middlesex County). There is some connection to Richmond, Staten Island, NY, too (via the Cole family).
Some Yarbrough marriages are listed here. My father's mother was a Yarbrough.
Grandpa Johnny was always right on the cutting edge of the sword of Truth, God rest his soul.