MATERNAL - THOMPSON, ELKINS, Hilburn (Hilbourne, etc.), Bird, Nobles, Morrow, Kimberling (Kimberly, Kimberlain, etc.), Pinnell, Davis, Cathey (related to the Scottish clan, MacFie, presumably), James
PATERNAL - DENMAN, YARBROUGH, Bassett (Lillian Virginia Bassett Denman, wife of Isaiah Cran[k]field Denman), Crankfield (Cranfill, Cranfield, etc.), Montgomery, Wilson, Perry, Elston, Clark, Sevier (de Xavier, Xavier, Jabier, Javier, etc.), Hawkins, Goad (Goade), Smith, Maris, Welborn (or Wellborn), Stearns, Johnson, Scudder (Schuder), Williams, Gano (Ganneau, Gerneaux, Geneau, Gannaugh, etc.), Hollander, Stoughton (Stuckton, Stockton, De Stoughton, De Stuckton), Montpesson, Tringall, Exhurst (Exherst, Exhirst), Ellis, Mestereau (Maestereau, etc.)...
Also possible: Hercy, Hyde, Lyon, Vernon, Winters, Littleton
~~~~~~~~~~~~~~~~~~~~~~~~~~~~~~~~~~~~~~~~~~~~~~~~~~~~~~~~~~~~~~~~~~~~~
All of the above are presumably directly related to me; the following are more distant relations (cousins, etc.):
MATERNAL - Fowler, Wray, Stephens, Gaines (and lots more)
PATERNAL - Hampton, Hall, Tailer, Maxfield, Smead, Chamberlain, Betts (and many more)
~~~~~~~~~~~~~~~~~~~~~~~~~~~~~~~~~~~~~~~~~~~~~~~~~~~~~~~~~~~~~~~~~~~~~
http://groups.google.com/group/soc.genealogy.britain/browse_thread/thread/32712bef77e22f65/64155a4b763da454%3Fq%3D%2522Edward%2BStockton%2522%2364155a4b763da454&ei=iGwTS6eaOpW8Qpmqic0O&sa=t&ct=res&cd=1&source=groups&usg=AFQjCNGBaXI6HLYCD2TtB9X-qqxFhDGttQ
http://www.gulbangi.com/5families-o/p326.htm
http://www.e-familytree.net/F240/F240789.htm
(According to this source, the Scudder brothers were cousins or uncles of John Denman [Judith Stoughton's grandson]. That would mean that Daniel Denman and Deborah Scudder were distant cousins, too. Now it makes more sense, that the two Scudder brothers were such close business associates of the Denmans... I'd presumed they were mere friends or acquaintances, until now. Lol, small, small world.)
http://warrencarmack.com/MarshaRising/Ozarks%20Families/kimberling_family.htm
(According to 'family tradition', the elder James Kimberling was from Germany.)
http://www.bradshawfoundation.com/stephenoppenheimer/origins_of_the_british.php
http://www.searchforancestors.com/utility/
A portrait of Anne Denman Flaxman, by Henry Howard. I don't know what, if any, relationship she is to us. One thing I have noticed however, is the brown eyes on most of the old Denman portraits; there seems to be a family resemblance.
Lord Thomas Denman, by John James Halls. His eyes might be hazel, kind of hard to tell. But, the facial structure and expression is definitely familiar.
Thomas Denman, M.D.
3rd Baron Denman, Governor-General of Australia and grandson of Lord Thomas Denman
Charlotte Edith Denman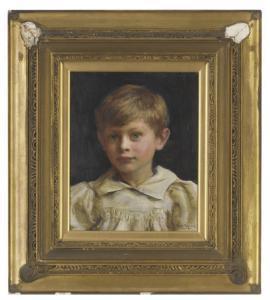 Portrait of Roderick Peter George Denman, by Ralph Peacock
Leroy Gilbert Denman
Lady Anne Hyde; not sure of the precise relationship to us.
UPDATE: I've since discovered many more surnames, and added them to my Tree -- but still need to retrieve them for inclusion in this article.