http://en.wikipedia.org/wiki/Henry_Vane_the_Younger
Sir Harry Vane was governor of Massachussetts Bay Colony in 1636 (when our English immigrant ancestor, John Denman, was only about 15 yrs old and living in Salem Colony). According to Joseph Dillaway Sawyer, "Born 1612. Beheaded 1662. An ardent defender of civil liberty and advocate of free thought in religion. He maintained that God, law and parliament are superior to the King. This statue, fronting Boston Public Library, was placed here at the request of James Freeman Clark, D.D., an honored citizen of Boston who nobly labored for the abolition of slavery in America.
"A rarely beautiful character was that of Massachussetts' twenty-four-year-old Governor, whose 'attractive activities' were freely admitted by Charles II [a lecher, like most royalty] even as he ordered Vane's death, which occurred June 14, 1662, in the virile words, 'He was too dangerous to live.' This was King Charles' last political contribution to martyrdom.
"Though an apologetic recantation would have saved his life, Vane's answer to the profligate king's sentence when on the verge of the death plunge was 'One thousand deaths for me, ere I will stain the purity of my conscience.'"
Harry Vane was immortalized in both sculpture and poetry.
"...Debonair Sir Harry Vane, when colonial governor, had gained the hearts of his fellows, and his spirit of fair play led him to espouse the cause of Ann Hutchinson [Yet another early American Puritan martyr, banished from society like Roger Williams by her own people -- many of whom were very conservative Loyalists before the Revolution. She was very much respected by the women of the community -- which made the men uncomfortable. Some of her accusers condemned her for 'having more wit' ie intelligence than the average person]. This resulted in the electioneering contest on Cambridge Common. There the dignified [Reverend] John Wilson, Ann Hutchinson's bitterest enemy, climbed a tree [how monkey-like] and made a speech, lauding ex-Governor Winthrop with such effect that Vane was deposed and Winthrop restored to the Governor's seat. Vane returned to England, meeting Cromwell's historic wail when reprimanding him for defying the law: 'O, Harry Vane; the Lord deliver us from Sir Harry Vane!'
"Twenty years later Vane was put to death by Charles II."
The widowed Ann Hutchinson and her children being massacred by Indians after their banishment from Boston.
Roger Williams, circa 1636.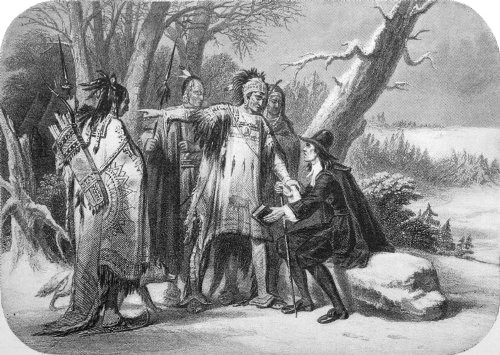 Roger Williams with Indian friends.
Roger Williams braving a storm in a canoe, in order to prevent war with the Indians.
"Roger Williams risked his life in a frail canoe during a storm on Narragansett Bay for that vital conference with the Pequot chieftains. The far-reaching outcome of his spiritual and physical courage was keenly appreciated by all Rhode Islanders and every advocate of liberty of conscience in the wide world. Less ability to guide his frail cockleshell boat amid the waves that threatened engulfment would have meant disaster [and not just to himself, but to the entire Colony]. Undoubtedly, Roger Williams' influence at the Narragansett conference, for which he made the dangerous trip, saved the lives of all colonists outside the protection of the larger towns...
"...For three days and nights Williams held the fort, combatted by those Pequot chiefs, who are portrayed as fairly yelling remonstrance against the fervid reasoning of this man of God. [The Indians were very angry and inclined at the time to take vengeance on the colonial population, due to some incidental injustices which had occurred during conflicts between Indians and settlers]. Yet even after Williams thus saved the lives and homes of many Puritans, standing by their colors and setting stakes, these blinded men of the Pharisee mind still called him a heretic and refused to rescind their order banishing Williams from his life-long friends. Unconsciously, these Puritans, reverting to the mediaeval spirit of Antichrist, were preaching the faith they once destroyed [Roman Catholicism], heresy ever in their eyes being a fair second to rankest criminality. Whether persuading the Narragansetts to stand by the whites, arguing with an antagonistic king and an English parliament to grant Rhode Island a charter, or converting a savage, Roger Williams was a man of magnetism. It was rarely that he over, under, or side-shot the mark at which he aimed. Well does Rhode Island, in her capital rear the statue of this typical just man -- nameless, but named in hearts that admire; for the fame of Roger Williams is 'deathless from the dead.' The 'second Isaiah' is called the Great Unnamed. He can afford to be. There is no named prophet equal to him, so also the ideal man, on whose bronze effigy overlooking Providence City the sunlight first falls, needs no name, but Rhode Island's history reveals it."
Roger Williams.