http://www.berkshirehistory.com/bios/ahyde.html
http://en.wikipedia.org/wiki/Anne_Hyde
http://en.wikisource.org/wiki/Hyde,_Anne_(DNB00
)
http://books.google.com/books?id=NhhEAAAAcAAJ&pg=PA189&lpg=PA189&dq=anne+hyde+what+is+truth&source=bl&ots=e7utcgLFKO&sig=SN0_65WhCVznE7zHgV4uJsdaK28&hl=en&sa=X&ei=W6c6T-rON7PTiAK8hpmTDA&ved=0CCcQ6AEwAQ#v=onepage&q=anne%20hyde%20what%20is%20truth&f=false
("Portraits of Illustrious Personages of Great Britain... with Biographical and Historical Memoirs of their Lives and Actions", by Edmund Lodge, Esq. F.S.A.)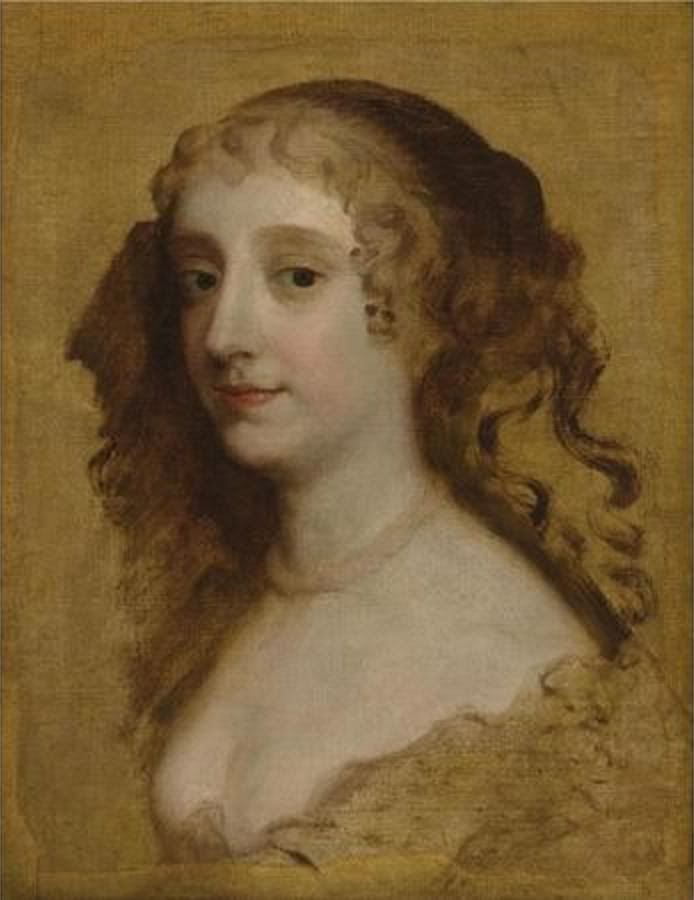 Lady Anne Hyde, Duchess of York

I have good enough reasons to believe that Anne Hyde, daughter of 1st Earl of Clarendon, Edward Hyde, and Lady Frances Aylesbury, is a distant cousin. But, I haven't yet been able to figure out the precise connection. Her grandmother was Anne Denman, wife of Sir Thomas Aylesbury; and her great-grandfather was Reverend Francis Denman of Retford, Nottinghamshire, England.
("It is, however, to be regretted, that the pedigree of the family cannot be made out so correctly as to preserve the line of descent uninterrupted. This, however, does not in the least invalidate the correctness of the foregoing statement, nor tend to disprove the facts, but is merely the result of the defective state of the registers in the sixteenth century, and of negligence in not preserving the documents pertaining to the family. The following pedigree of the Derbyshire branch is as correct as can be ascertained."
... Note also, that Retford endured at least two massive fires and was the site of many battles during Civil and other wars in England. I find that America too, has had our official public records decimated repeatedly, since early Colonial times. Even today, most of our public records aren't actually "public": we citizens are often forced to pay dearly for "certified copies", and even for the "privilege" of simply viewing them.)
As a young girl, she was Maid of Honor to a Princess of Denmark; where she made quite a splash at court. She had a lively personality, and won the hearts of more than a few suitors. Future king of England, James II, seduced her there, getting her pregnant; whereupon his brother, king Charles II forced him to marry her. Their wedding ceremony was conducted at a private home in the middle of the night, because of all the opposition and controversy surrounding their union. She was at least six months pregnant, at the time of her official nuptials.
Prior to the wedding, a smear campaign had been waged against her by associates of her future husband, (known as James, Duke of York, at the time). She was characterized by a group of male courtiers acting together, as a slut, a tramp; when her father heard what was being said about her, he advised the king to send her to the Tower, for possible execution by be-heading. And at first, her future mother-in-law also hated her because of the scandal; but luckily, the leader of the conspiracy later recanted, admitting that it was all lies. They really just didn't want the marriage to take place, probably for political reasons.
All that drama had caused much confusion and turmoil in the minds of James, his brother king Charles, and her father Edward Hyde, who was Charles' official court advisor. All before they even got married, and while she was pregnant with her first child.
She was a good wife, good mother, and a woman of great intelligence and skill. But their marriage was unhappy, due to James' tendency to sleep around with mistresses. Yet she bore the brunt of his misconduct, again being unfairly accused of criminal behavior: this time for the murder of one of James' other women. She was also accused of having an illicit affair herself; was mocked for her alleged body odor; and for her habit of over-eating.
Yet despite his loose morals and all of the relentless, jealous controversies around Anne herself, James really loved his wife; saying this about his feelings for her, in his personal memoirs:
"When [my] sister, the Princess Royal came to Paris, to see the Queen Mother, [I] fell in love with Mrs. Anne Hyde, one of her maids of honour. Beside her person, she had all the qualities proper to inflame a heart less apt to take fire than [mine]; which she managed so well, as to bring [my] passion to such a height, as between the time [I] first saw her, and the winter before the King's restoration, [I] resolved to marry none but her, and promised her to do it; and though at first, when [I] asked the King, [my] brother, for [my] leave, he refused, and dissuaded [me] from it, yet at last he opposed it no more, and [I] married her privately... Her want of birth was made up by endowments, and her carriage afterwards became her dignity."
And regardless of her hardships, she managed anyhow to raise two very beautiful and intelligent daughters, future queens Anne (wife of Prince George of Denmark) and Mary II (wife of William of Orange). Both of her daughters enjoyed happy marriages. But although her entire family (except her husband) were loyal Protestants, she decided to secretly convert to Roman Catholicism.
It was on her deathbed, where she died of breast cancer, and where the priest was performing the last rites for her, shortly after the birth of her last child (only two of six survived infancy), that she was prompted to reveal her final thoughts before passing on; to which she replied:
Queen Anne
I like this portrait of Anne when she was only around three years old.