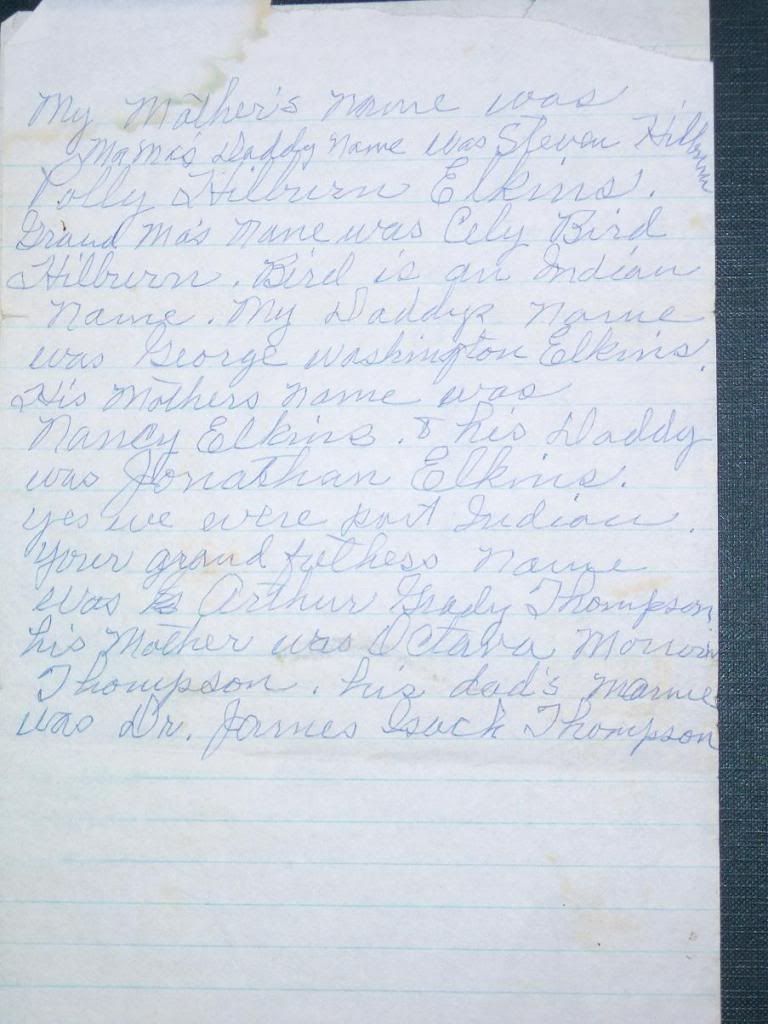 Years ago, when I was in my 20's, my grandmother, Mary Gladys Elkins Thompson, wrote me this letter, in response to my questions about our family history. This is only the second page of it; and if I ever locate the first page, I'll post that too.
UPDATE: I've since located page one of my letter from Grandma, and now the two pages are back together again... however, because it's just some personal stuff, I see no reason to post it online.
No one is or was more credible than this woman; she had not only my respect, but that of everyone who knew her. She also offered me precious family photos, just six weeks prior to her death; but I was eight months pregnant and too overwhelmed with emotion to accept them at the time, because even though she didn't mention it, I intuitively realized she wouldn't be with us much longer. That knowledge hit me very hard. So my sister Barbara got most of them, but then later lost them when she left her husband.
The letter's text reads: "My mother's name was Polly Hilburn Elkins. Mama's daddy's name was Steven Hilburn. Grandma's name was Cely Bird Hilburn. Bird is an Indian name. My daddy's name was George Washington Elkins. His mother's name was Nancy [Nobles] Elkins, & his daddy was Jonathan Elkins. Yes we were part Indian. Your grandfather's [her husband's] name was Arthur Grady Thompson. His mother was Octavia Morrow Thompson. His dad's name was Dr. James Isack [Isaac] Thompson."
Grandma, in ca1971; sister Barbara (with broken leg from a bicycle accident that occured at one of her friends' house) is under the comforter in front, at her feet
I don't know for certain, but am inclined to think that Cely Bird's family might be associated with either Bird Town or Paint Town?
Eldridge H. Hagewood, my Grandmother's second husband and father of my aunt, Celeste Hagewood Fowler Andrews. He died young, evidently from some sort of work-related accident.